Dietary guidance and information in pregnancy – where does iodine stand?
By Maira Bouga, PhD candidate and  Emilie Combet, Senior Lecturer in Nutrition
Iodine is an important nutrient, especially during pregnancy –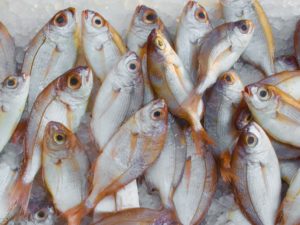 however, very few women have ever heard of it. In fact, it is very rarely mentioned during antenatal care, despite its important role in metabolism and for the neurodevelopment of the infant. In the UK, this is particularly striking, since neither salt, nor bread is fortified with the nutrient, meaning that iodine must be secure from the diet.
Iodine is mainly found in dairy and seafood products, and plays an important role in the synthesis of the thyroid hormones – and these are crucial for neurodevelopment of the unborn fetus and the child.
Recommended intakes in pregnancy could potentially be met by consuming two portions of white sea fish per week, in addition to the equivalent of two glasses of milk (as drinks, or in cereals for example), a yoghurt and a cheese serving per day. However, many women avoid these foods and lack knowledge and know-how to include them in their diet. Dietary advice before, during and after pregnancy is important to guide food choices – however, there is little knowledge on the perceptions of women relative to this advice in the context of pregnancy and iodine.
Pregnancy nutrition and iodine: the stakeholder perspective
Exploring the current level of awareness about iodine in pregnancy and related dietary recommendations is especially important in order to better understand how to tackle iodine insufficiency.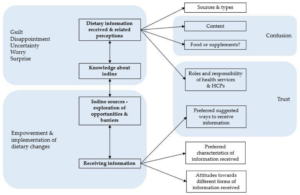 In our latest study, we focused on the perceived level and quality of dietary guidance received by expectant / new mothers, the barriers to increasing or maintaining an adequate intake of dairy and seafood and their thoughts on the most effective ways of delivering dietary guidance. We interviewed new and expectant mothers to explore in depth the level of dietary guidance they received.  We transcribed verbatim all interviews and analysed them using thematic analysis, which aims to build a comprehensive picture of the views and perceptions of the group under study.
Practically…

Most participants were new mums and were trying to organise a phone interview during their baby's nap. In more than half of our recordings a baby is crying in the background.

Iodine insufficiency is a re-emerging public health issue in the UK
Awareness and knowledge were low amongst all participants, even with high educational attainment, and those from a healthcare background. For the first time, we captured the complex picture of feelings, emotions and opinions related to dietary guidance in pregnancy, with a specific focus on iodine – these encompassed trust, anxiety, confusion and uncertainty, with a clear need for further support.
Leaflets, booklets and the internet (often provided or suggested by the midwives) were the main sources of nutrition information for pregnancy. Women trust the healthcare services and have high expectations, which can be followed by feelings of disappointment the information provided is limited or confusing.
The study points toward a need for further information on nutrition in pregnancy – suggestions included a bigger focus on foods and portion sizes, rather than individual nutrients, a clear and practical format to deliver the information, and possible further use of technology for effective delivery of nutritional advice for pregnancy.

Iodine is relevant to more than mothers and children
These new findings will matter to women, and the policy and healthcare teams working with them before, during and after pregnancy. The results are important for the design of appropriate public health approaches focusing on dietary guidance in pregnancy, especially when aiming to increase iodine intake in women, but also in the context of continuous professional development – as they highlight a need not met at the moment, with potential lifelong repercussions. Policymaking around iodine nutrition has been slow in the UK, and in fact, lagging behind other countries which have already taken action. 
---
Relevant readings
Bouga M, Lean MEJ, Combet E (2018) Iodine and pregnancy – a qualitative study focusing on dietary guidance and information.

Nutrients,

10(4), 408;

https://doi.org/10.3390/nu10040408

Bouga M, Lean MEJ, Combet E (2018) Contemporary challenges to iodine status and nutrition–the role of foods, dietary recommendations, fortification and supplementation.

Proceedings of the Nutrition Society, (in press)

Combet E, Bouga M, Pan B, Lean MEJ, Williamson C (2015) Iodine and pregnancy – a UK cross-sectional survey of dietary intake, knowledge, and awareness.

British Journal of Nutrition,

 114(1), 108-117;

https://doi.org/10.1017/S0007114515001464
Iodine Food Fact Sheet: https://www.bda.uk.com/foodfacts/Iodine.pdf
---
Who are the contributors
Maira Bouga was the lead researcher on this study, supervised by Dr Emilie Combet and Prof Mike Lean. Maira has studied Food Science at the Agricultural University of Athens (Greece) and has an MSc in Human Nutrition with Specialisation in Public Health Nutrition at the University of Glasgow. She is now in the last year of her PhD, which is funded by the Glasgow Children's Hospital Charity.